Social Responsibility Policy
Adisseo mission is to feed the planet in a sustainable, affordable, qualitative and safety way. Its first social responsibility is to fight against hunger, through a responsible employer approach, and a contribution to all community where it operates, providing qualitative food, safe environment, and facilitate education access to all.
Adisseo is a first-in-class inclusive Human organization where employees' competencies are aligned with business needs and their aspirations are met, for a shared sustainable and profitable development.
We invest in the development of our employees, offer them career development and mobility opportunities (including worldwide), implement a motivating compensation scheme, and develop quality workplaces.
Our Human Richness Ambition is declined in 4 main HR and leaders missions:
Care & Develop Talents: Be a reliable and strategic partner to engage managers and employees and support their development but also ensure the company has the talents needed.
Spread culture: Promote Adisseo values and behaviors, but also impulse a change of culture through the company. Our culture is the foundation of a qualitative workspace where all diverse talent will be welcome and express their best potential.
Support Business: Translate business needs into HR solutions and match business needs with the right tools, competencies and organization.
Foster Sustainability: Contribute to the sustainable growth of Adisseo by promoting diversity and ethics and guarantee decent and sustainable working conditions.
Our people around the globe integrate in their mission the contribution to local communities wellness, they are empower to take initiatives to answer local need, and are proud to act for the good of the planet.
Values, behaviours and ethics at the heart of Adisseo's actions
Adisseo operates in complex environments. Its values and behaviours are pillars on which the company can rely to fulfil its mission of providing the world with healthy, sustainable, affordable and quality food. Integrity is one of Adisseo's core values and is structured and formalised in its Code of Ethics.
The Code of Ethics sets out the principles and rules of conduct that all Adisseo employees, whatever their position, undertake to respect and implement on a daily basis. It is intended to guide everyone in situations where they may feel the need to be reassured about their choices.
The company also provides employees with an alert platform to inform the company of a possible or proven breach of legal and regulatory provisions. This system allows them to make a report in complete confidentiality (concerning customers, employees, suppliers). A new mapping of Group risks was carried out in 2022, which has enabled the company to specify its means of controlling several of the risks relating to ethics. In order to raise awareness of these issues among all its employees, Adisseo provides mandatory training on compliance and ethics. This training approach is based on an analysis of the risks to which employees are potentially exposed in their jobs. Thus, in addition to a general compliance training course given to the 168 new employees joining the company in 2022, specific training on competition law and antitrust rules was given in 2022 to 468 people who could potentially face this risk. Regular communications complement these courses to raise awareness of good practices.
Adisseo considers that the success of a company is largely based on trust, not only that of its business partners and shareholders but also and
above all that of its employees.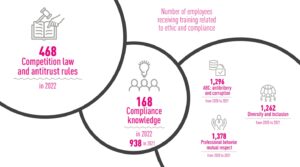 214

people were recruited

on permanent contracts, 79 of which were new positions.

1 of 6
1,3 billion people
live with a significant disability
in the world
Source: WHO Dec.2022