Social Responsability Policy
Adisseo mission is to feed the planet in a sustainable, affordable, qualitative and safety way. Its first social responsibility is to fight against hunger, through a responsible employer approach, and a contribution to all community where it operates, providing qualitative food, safe environment, and facilitate education access to all.
Adisseo is a first-in-class inclusive Human organization where employees' competencies are aligned with business needs and their aspirations are met, for a shared sustainable and profitable development.
We invest in the development of our employees, offer them career development and mobility opportunities (including worldwide), implement a motivating compensation scheme, and develop quality workplaces.
Our Human Richness Ambition is declined in 4 main HR and leaders missions:
Care & Develop Talents: Be a reliable and strategic partner to engage managers and employees and support their development but also ensure the company has the talents needed.
Spread culture: Promote Adisseo values and behaviors, but also impulse a change of culture through the company. Our culture is the foundation of a qualitative workspace where all diverse talent will be welcome and express their best potential.
Support Business: Translate business needs into HR solutions and match business needs with the right tools, competencies and organization.
Foster Sustainability: Contribute to the sustainable growth of Adisseo by promoting diversity and ethics and guarantee decent and sustainable working conditions.
Our people around the globe integrate in their mission the contribution to local communities wellness, they are empower to take initiatives to answer local need, and are proud to act for the good of the planet.
Supporting Adisseo's commitments
Adisseo's code of ethics is based on the values and behaviours advocated by the company, which are also reflected in the purchasing charter. It encourages openness, courage and respect.
The company provides employees with a whistleblowing platform to inform the company of a possible or proven breach of legal and regulatory provisions. This system allows them to report in complete confidentiality (concerning customers, employees, suppliers). In order to raise the awareness of all its employees on this subject, Adisseo provides mandatory training on compliance and ethics and regularly communicates
internally on these principles.
In addition, the company has drafted a new responsible purchasing charter to ensure that its various suppliers respect its social and environmental values. Each supplier must sign the charter to demonstrate their commitment to respecting requirements relating to human rights, worker health and safety, environmental protection and professional ethics.
Adisseo believes that the success of a company depends to a large extent on trust, not only from its business partners and shareholders but also and above all from its employees.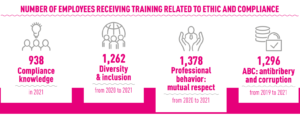 212

people were recruited

on permanent contracts, 118 of which were new positions.

Children with disabilities
240 million
children with disabilities
in the world
Half have never attended school
while up to one in three do not eat enough
decent food to grow and thrive.