Social Responsability Policy
Adisseo mission is to feed the planet in a sustainable, affordable, qualitative and safety way. Its first social responsibility is to fight against hunger, through a responsible employer approach, and a contribution to all community where it operates, providing qualitative food, safe environment, and facilitate education access to all.
Adisseo is a first-in-class inclusive Human organization where employees' competencies are aligned with business needs and their aspirations are met, for a shared sustainable and profitable development.
We invest in the development of our employees, offer them career development and mobility opportunities (including worldwide), implement a motivating compensation scheme, and develop quality workplaces.
Our Human Richness Ambition is declined in 4 main HR and leaders missions:
Care & Develop Talents: Be a reliable and strategic partner to engage managers and employees and support their development but also ensure the company has the talents needed.
Spread culture: Promote Adisseo values and behaviors, but also impulse a change of culture through the company. Our culture is the foundation of a qualitative workspace where all diverse talent will be welcome and express their best potential.
Support Business: Translate business needs into HR solutions and match business needs with the right tools, competencies and organization.
Foster Sustainability: Contribute to the sustainable growth of Adisseo by promoting diversity and ethics and guarantee decent and sustainable working conditions.
Our people around the globe integrate in their mission the contribution to local communities wellness, they are empower to take initiatives to answer local need, and are proud to act for the good of the planet.
Training is succeeding 
Despite the pandemic, Adisseo has been able to maintain training activity for its staff. Among the dozens of modules available, distance learning has been favored, although modules that required face-to-face training were maintained in compliance with strict health rules. In France for example, these related to training for the positions of chemical plant operators, manufacturing technicians and manufacturing team leaders. Since the launch of the "Addixyz" workstation training program, nearly 40 employees have been certified in these fields. The company aims to develop everyone's skills and knowledge in order to increase the versatility and efficiency of its staff, to support them in the development of
their functions and to build their loyalty. By encouraging everyone's success, Adisseo is developing its employer brand.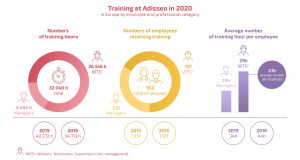 76%

satisfaction rate

regarding sustainable management

38%
Child labour has decreased by 38% over the past ten years.
However,
152 million
children (one in ten) are still caught up in harmful work.  the COVID-19 pandemic has considerably exacerbated the situation.