Our Health and Safety policy
Zero accident is one of the permanent objective of this commitment in all fields. It is maintained through systematic and thorough analysis of risks and losses, and the implementation of best techniques of prevention by associating all stakeholders in a will of Sustainable Development.
Adisseo's health and safety policy leans on the six following drivers :
Ensure health and Safety of people by preventing and controlling risks, contributing to wellbeing at work
Demonstrate leadership and exemplarity
From unit design, consider process, products risks and ergonomics in safety analysis studies in order to guarantee job safety as well as process safety at the workplace
Prepare the organization for potential emergency situations management
Minimize risk by investigation of near-misses and incidents
Require contractors to manage safety in line with this policy
2020, new best year for safety
For the second consecutive year, our safety results represent Adisseo's best ever performance.
Despite a difficult second quarter, our safety performance over the three other quarters was well below the target.
Five of the twelve months of the year are also without accident.
This demonstrate that our permanent objective "zero accident" is achievable thanks to the various specific action plans dedicated to safety, good practices and safety culture deployed throughout all the company.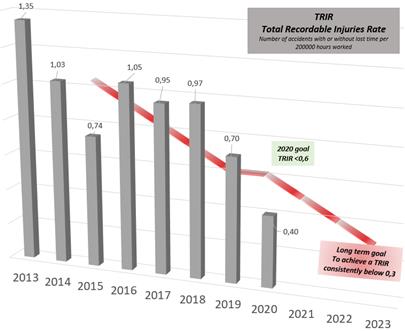 €
9.8

million

Health and safety operational cost in 2019

7500
people die every day in the world from accidents at work or occupational diseases.
1000
people die every day in the world due to an occupational accident.