The company's security policy
Zero accidents is one of the permanent objectives of this commitment in all areas. It is supported by a systematic and in-depth analysis of risks and losses, and the implementation of the best prevention techniques by associating all stakeholders in a commitment to Sustainable Development.
Adisseo's health and safety policy is based on the following six principles:
Ensure the health and safety of people through prevention and control of risks, contributing to well-being in the workplace.
Demonstrate leadership and example.
Take into account risks related to processes, products and ergonomics in safety risk analysis studies, right from the design stage, in order to guarantee the safety of people and processes in the workplace.
Help prepare the organization to manage possible emergency situations.
Reduce risk by investigating incidents and near misses.
Require subcontractors to manage safety in accordance with this policy.
SAFETY PERFORMANCE ON TARGET
After a year during which Adisseo saw its safety performance deteriorate in 2021, the situation improved in 2022.
After a mediocre start to the year, the accident rate fell and the overall performance for the year was on target. The accident severity rate also decreased compared to the two previous years. Several safety initiatives were launched and bore fruit. The most important of these was an assessment of the safety maturity of all our
sites, which enabled us to identify actions for immediate progress as well as short and medium-term actions. We also relied on the HSE (Health, Safety and Environment) management system of our shareholder, SINOCHEM Group, by using it as a reference for evaluating our practices. The requirements of this management system, known as FORUS, helped identify additional avenues for progress. The objective is now to deploy all of its practices.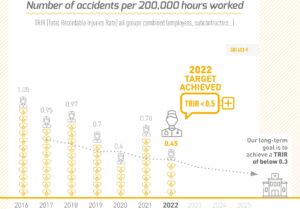 10,8
million € Health and safety operational cost in 2022

Road traffic injuries
1.3 million
deaths
50 million
injuries each year
Source: UN Nov.2022