The company's security policy
Zero accidents is one of the permanent objectives of this commitment in all areas. It is supported by a systematic and in-depth analysis of risks and losses, and the implementation of the best prevention techniques by associating all stakeholders in a commitment to Sustainable Development.
Adisseo's health and safety policy is based on the following six principles:
Ensure the health and safety of people through prevention and control of risks, contributing to well-being in the workplace.
Demonstrate leadership and example.
Take into account risks related to processes, products and ergonomics in safety risk analysis studies, right from the design stage, in order to guarantee the safety of people and processes in the workplace.
Help prepare the organization to manage possible emergency situations.
Reduce risk by investigating incidents and near misses.
Require subcontractors to manage safety in accordance with this policy.
Improving safety performance
After a year during which Adisseo achieved its best ever safety performance in 2020, the situation is more contrasted in 2021. After a fi rst half-year on target, results deteriorated in the second half-year and led to an overall performance for the year that fell far short of the company's ambitions.
To rectify this situation, new safety initiatives were undertaken at two levels. On a global level, an assessment of the safety maturity of Adisseo's sites was launched in order to identify not only immediate actions but also short and medium-term priorities.
More specifi cally, in the most accident-prone entities, additional safety action plans have been defi ned by targeting the specific context of each site concerned. These tailored initiatives should help return to the company's single objective of zero accidents.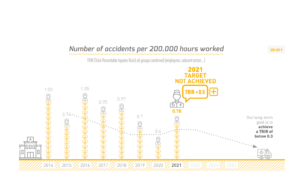 10,3
million € Health and safety operational cost in 2021

Safety number
The number of work-related deaths per capita
decreased by
14 %
between 2000 and 2016