Environmental Policy
Our ambition is to reduce the environmental impact of animal protein production in all areas (eco-systems, climate change, biodiversity, depletion of resources, pollution). All of our innovation and development projects follow our sustainability principles:
• To integrate environmental considerations as of product inception and throughout its lifecycle,
• To reduce the environmental impact of our existing entities.
It leans on the six following drivers:
• Reduce our impact on the environment in terms of climate change, air pollution, water pollution by limiting our emissions and protect our neighborhood from any nuisances
• Optimize our natural resources consumption: water, energy
• Reduce our own quantity of produced waste by supporting products reusing and waste's recycling
• From unit design and during all the cycle life of our products, consider process, products risks and environmental impacts in order to guarantee the lowest effects on the environment
• Prepare the organization for potential emergency situations management
• Minimize risk by investigation of near-misses and incidents
ADISSEO continues its commitment to the climate
In 2018 Adisseo committed to reducing its greenhouse gas (GHG) emissions intensity (per ton of product manufactured) by 20% by 2025 compared to 2015.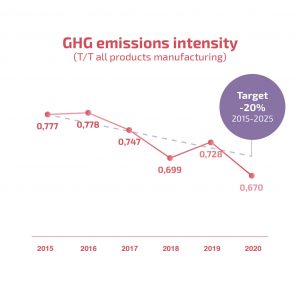 From 2021 Adisseo will take another step forward. It has chosen, as an additional objective, a path to reduce its absolute GHG emissions by 2.5% per year, thereby strengthening its contribution to limiting global warming by complying with the Paris climate agreement.
The scope covers all direct emissions related to its current industrial activities (scope 1) and indirect emissions related to its energy purchases (scope 2).
This ambition is based on projects to develop and optimize its processes, improve energy efficiency and the possibility of purchasing renewable or decarbonated energy, particularly in China with a nuclear power supply for the Nanjing site.
-11,500

tons of indirect GHG emissions saved in 2020.

Supply of electricity from renewable sources to the Burgos site since January 1st, 2020.

The earth is
1.1°C
warmer than it was at the start of the industrial revolution.
On the current path of CO2 emissions, the global temperature is expected to increase
by 3 to 5°C by the end of century.