Environmental Policy
Our ambition is to reduce the environmental impact of animal protein production in all areas (eco-systems, climate change, biodiversity, depletion of resources, pollution). All of our innovation and development projects follow our sustainability principles:
• To integrate environmental considerations as of product inception and throughout its lifecycle,
• To reduce the environmental impact of our existing entities.
It leans on the six following drivers:
• Reduce our impact on the environment in terms of climate change, air pollution, water pollution by limiting our emissions and protect our neighborhood from any nuisances
• Optimize our natural resources consumption: water, energy
• Reduce our own quantity of produced waste by supporting products reusing and waste's recycling
• From unit design and during all the cycle life of our products, consider process, products risks and environmental impacts in order to guarantee the lowest effects on the environment
• Prepare the organization for potential emergency situations management
• Minimize risk by investigation of near-misses and incidents
COMMITTED TO CLIMATE PROTECTION
Climate change is one of the major challenges facing society and one on which we must act as quickly as possible. This global challenge is at the heart of Adisseo's concerns.
In 2021, Adisseo committed to contribute to the collective goal of carbon neutrality by 2050.
In 2022, Adisseo revised its short-term environmental objectives, namely:
• A 21% reduction in its greenhouse gas emissions in absolute terms between 2020 and 2025. This target is aligned with the 1.5°C SBT (Science Based Targets) trajectory and the Paris Agreement.
• A 13% reduction in its absolute energy consumption between 2020 and 2025 including business growth.
In 2022, Adisseo initiated a process with Carbone 4 (a leading French sustainable development consultancy) to establish its carbon reduction roadmap to 2050.
This work consisted first of all of a critical review of the measurement of the company's carbon footprint on all its perimeters. It confirmed Adisseo's estimates and refined them by looking in greater depth at regional data according to the countries where the company's activities are located.
Within the framework of a project group, 4 themes were analysed in detail:
• Raw material purchases
• Energy
• Logistics and transport
• Processes
This approach has already enabled Adisseo to verify that its short-term objectives for greenhouse gas emissions and energy consumption were relevant.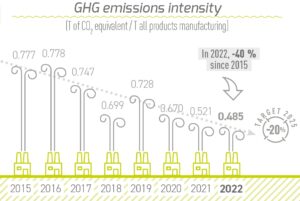 Supply of electricity
55%

of the company's electricity purchases

are of renewable or decarbonated origin

The earth is
1.1°C
warmer than it was at the start of the industrial revolution.
On the current path of CO2 emissions, the global temperature is expected to increase
by 3 to 5°C by the end of century.