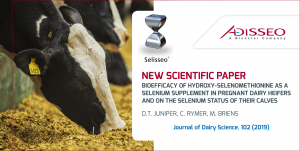 A recent study published in Journal of Dairy Science showed that supplementing pregnant dairy heifers with Selisseo®, a pure and highly available form of organic selenium, significantly enhances their GSH-Px activity compared to unsupplemented heifers. It provides them with a greater plasma Se concentration than sodium selenite. It also results in greater colostrum Se in heifers and greater plasma Se for their calves.
This enhanced Se status associated with Selisseo® supplementation is likely a consequence of selenomethionine supply and may confer benefits to both the dam and her calf postpartum.
"Bioefficacy of hydroxy-selenomethionine as a selenium supplement in pregnant dairy heifers and on the selenium status of their calves", published in Journal of Dairy Science, May 2019.