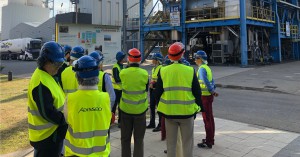 Adisseo proposes methionine products under powder and liquid forms to fit the different needs of customers: premixers, feed millers, integrators, etc. Two events were organized by Adisseo in October 2018 in industrial plants to exchange about methionine-related topics: production, nutrition, technology and market.
The events took place in Lyon on 15-16th and in Burgos on 16-18th October with 75 customers from more than 15 countries.
A visit of Roussillon and Burgos plants were organized, followed by a plenary session.
A presentation showed the key drivers of the methionine market globally and per region and the methionine forms penetration. The values of methionine sources were also discussed based on in vivo trials in various species: broilers, layers or ducks; all the trials results show the same efficacy of methionine sources on equimolar basis. Then other benefits of liquid hydroxy-methionine beyond protein synthesis especially in swine were illustrated, as well as benefits to use liquid on a technological point of view.
Here are some advantages of liquid additive that were shared:
Less load handling for workers as the dosage is automatic and does not require to carry bags;
No dust which has a positive impact on hygiene and safety,
Easier storage as liquid packaging like IBCs can be stored outside of the warehouse, etc.
A specific session focussed on AdiSodiumTM showed that this chloride-free source of sodium is leading to the same monogastrics' performance than with other sources in standard and heat stress conditions, without any detrimental effect.
This event received positive feedbacks from customers and other events will followed in the future.
For further information on the event, please contact your sales representative.