Soybean meal prices have almost doubled during the period.
Besides, the survey allowed to conclude with contexts of contrasted prices. Indeed, during the period examined, the price rise of soybean meal was considerable, shooting up in France from less than 300€/t at the end of 2011 to over 500€/t in July 2012. In Turkey, the price rocketed from 350€/t to 650€/t over one year.
Soya bringing about a general rise of the available raw materials, the formulation of feeds based on the initial criteria entailed a noticeable rise of the raw material cost, even when using locally available substitutes to soya. Thus, the raw material cost of the "broiler grower" formula rose from 360 €/t to over 450€/t in Turkey, and from 275€/t to 390€/t in France.
But whatever the country, the use of Rovabio® allowed to cut the extra costs, thanks to the possibility of increasing the value of some raw materials : sunflower or rapeseed meals, DDGS, but also cereals as in Tunisia, where Rovabio® has allowed to decrease the shadow price of barley compare to corn, and to introduce some barley in the feed  leading to a sustainable and significant  benefit.
For example, using Rovabio®
in a french formula and in the context price of august 2012 dropped the shadow price of barley of more than 50€ /t, and allowed to increase its rate, with a final formula cost reduced by 16 €/t. (Fig 2)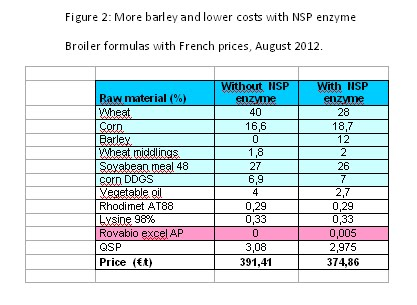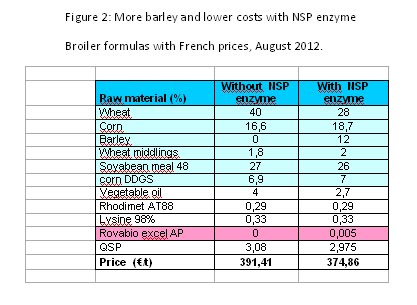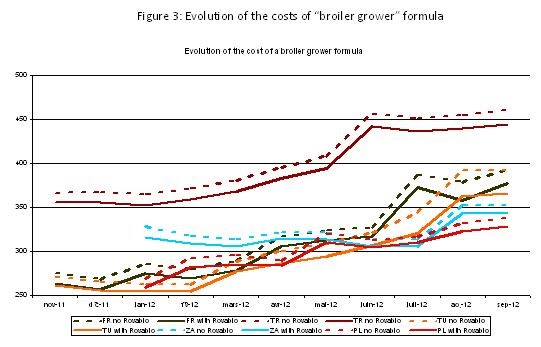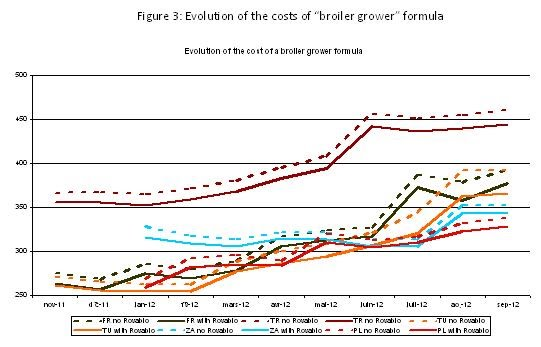 More particularly, we notice that the economic interest of Rovabio® is always established and it is all the greater as the context of raw material prices is higher. In France, the savings on material costs reached 20€/t in august 2012 when the price of soya reached a peak, against 10 €/t November 2011. In Tunisia the savings went over 20€/t for a maximum formula price of 390€/t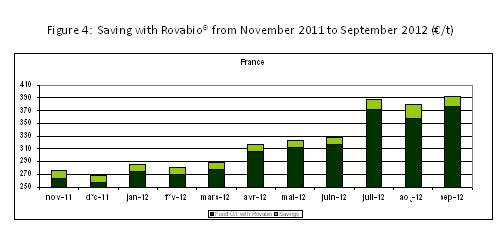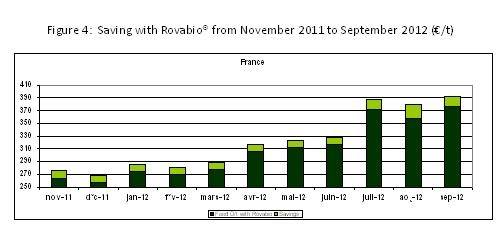 Considering that, if one follows  Adisseo recommendations, the return on investment is 8/1 on average during this period in the five countries surveyed and can even reach 20/1 as was the case in the Tunisian context in August 2012.