Allen Wu, Reg. Mgr. Aqua – APAC
Nutriad* was pleased to be invited to the yearly aquaculture seminar organized by GreenVet Joint Stock Company, North partner for aquaculture products of Nutriad in Vietnam. This year, the farmer's seminar was organized in Sapa Green hotel of Vietnam during Feb. 26, 2019. Welcomed by Mr. Huy TRAN QUANG, Director of GreenVet Ltd and Mr. Duc MINH TRUONG, Vice Director of Tan Sao A. Ltd. Followed by Allen Wu, Regional Manager Aquaculture for APAC – Nutriad/Adisseo presented a talk on "A New Era of Nutriad Aquaculture".
Since shrimp farmers stocked higher density in north Vietnam, farmers showed more interested in our proposed strategies to improve disease management in shrimp nursery systems and grow-out ponds. We shared our experiences of commercial trials on how to manage White Feces Syndrome of Shrimp in Malaysia and Indonesia. White feces syndrome (WFS) continues to be a main threat in SE Asia, particularly Vietnam, Indonesia, Thailand and India. The exact cause of this disease remains unclear although pathogenic bacteria and microsporidians are often associated with its symptoms. Nutriad has recently obtained promising results via the application of its health range of specialty additives in farms affected by WFS. "We observed shrimp farmers started to not just buy a health-care product but like to choose high quality aqua products which really benefit their production" said Mr. Huy.
Shrimp farm customers in Vietnam has been used to apply Nutriad's aqua specialty products aquaculture health for many years and are satisfied with the results and performances in most of major culture areas in the South to Central Vietnam. "Thanks to GreenVet, this is our first time to present in our partner's aqua technical seminar in the North of Vietnam. We believed we will do more in coming years", said Allen WU.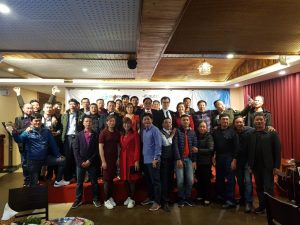 *Acquired by Adisseo in 2018, Nutriad offers species-specific feed additive specialties for aquaculture and helps producers of fish and shrimp across the world to prevent diseases and parasites; and to improve cost efficiency of feeds. Adisseo is one of the world's leading experts in feed additives. The group relies on its 11 research centers and its production sites based in Europe, USA and China to design, produce and market nutritional solutions for sustainable animal feed. With more than 2,100 employees, it serves around 3,500 customers in over 100 different countries through its global distribution network.
Find out more at www.adisseo.com