A new era for Nutriad/Adisseo Aquaculture was clearly evident at Adisseo's seminar entitled "Innovative strategies for a sustainable blue revolution", held in conjunction with Asian-Pacific Aquaculture (APA'19). It was also the opportunity to introduce the new team and Adisseo's product lines for aquaculture to the sector in Asia, gathered in Chennai, India for the annual conference and trade show held from June 19-21. In 2018, Nutriad was acquired by Adisseo, a global leader in nutritional solutions and additives for animal feeds.
In his welcome to participants, Dr Peter Coutteau, Business Unit Director Aquaculture for Adisseo said that the benefit of being part of the larger Adisseo is the focus on diversification and integration. The aquaculture world is entirely different from the poultry sector and the blue revolution in Asia is exemplified by the farming of the vannamei shrimp. The strategy for the aquaculture business unit is to develop key markets and India is one of them. Coutteau explained that within Adisseo, aquaculture is positioned in the specialties business unit led by Francois Pellet. Adisseo's ambition to become a leader in aquaculture is supported by a strong expansion of the technical-commercial aqua team in all key markets and an investment plan for long term R&D.
The integrated Adisseo/Nutriad product portfolio covers all key aspects of additive requirements for aquafeed including programs for health, digestion, palatability, specialty nutrition, and feed quality. During this seminar attended by shrimp and fish farmers as well as aquafeed managers and technicians, Martin Guerin, Regional Technical Manager- Aquaculture APAC/ISC looked at optimizing lipid digestion and utilization in aquafeeds. Guerin introduced categories of lipids and their functions. Lipid digestibility depends on the type of lipids and species. For the latter, the range is 20% to 90%.
"We can improve lipid digestibility with feed additives such as lysophospholipids which form the easily- absorbed micelles. Lysophospholipids reduce the size of the micelles which result in faster absorption at the level of the intestine or hepatopancreas. Lysophospholipid based products find application in fish and shrimp feeds at inclusions between 0.5kg and 1kg/tonne ."
Another strategy is bile salts which Guerin explained to be the strongest oil -in-water emulsifier existing in nature with much stronger emulsification power compared to lecithin and even lysophospholipids. Bile salts can replace cholesterol as they have the same structure as the cholesterol molecule. "When we replace fish oil and fish meal, there will be no source of cholesterol and lecithin is usually added into the formulation. In Vietnam, adding bile salts into the regular diet in pangasius feeds reduced visceral fat, improved growth and feed conversion ratio."
Dr Waldo Nuez Ortin, Lead Scientist-Aquaculture presented different strategies for the nutritionist to prevent oxidative stress in fish and shrimp. "Oxidative stress occurs when there is an imbalance between pro-oxidants and antioxidants. There are three levels; breaking down the free radicals, followed by capturing the free radicals and finally elimination of the oxidized products. Glutathione has a role in detoxification of reactive oxidation species (ROS) which causes tissue damage. Glutathione cannot be supplemented as it is too expensive. Substitution with transformation by scavenging enzymes which target the gut microbiota was suggested. Nuez Ortin went on to explain step by step the process in reducing oxidative damage to fillet quality.
"Organic selenium can be added in feeds to increase selenium content in muscle. A good antioxidation system is important to reduce ROS such as increasing micronutrient levels (selenium, manganese etc) to breakdown free radicals and functional feed additives promoting antioxidation,"
In her update from laboratory and field studies to promote health with functional feed additives, Dr Maria Merce Isern, Global Product Manager – Aquaculture Health, said that modulation of the gut microbiota will inhibit the growth of bacterial pathogens and promote beneficial bacteria. She described work using a functional feed additive to improve gut health in tilapia which gives the fish robustness to handle threats from Streptococcus and Francisella sp. In shrimp, Dr Loc Tran, ShrimpVet Laboratory has developed an infection model which will produce the multifactorial white faeces disease (WFD). Addition of functional feed additives (Sanacore®GM) will reduce prevalence of WFD in this challenge model by 50-55%. In another case, the additive prevented the ejection of the polar tube for EHP infection and resulted in zero germination of the spore.
In closing the seminar, Coutteau hoped that the farming as well as the aquafeed community has a better idea on how the company can support their needs. "The demand for specialized feed additives has grown tremendously in the aquaculture industry during the past years. We believe that this trend is here to stay. Producing functional feeds to reduce the impact of diseases and parasites, formulating with less marine ingredients for carnivorous species, maximizing feed efficiency when market price for fish and shrimp is at historically low levels … these are some of the current challenges where the aquafeed industry can benefit from novel additive technology, no doubt !"
The Adisseo Aquaculture team;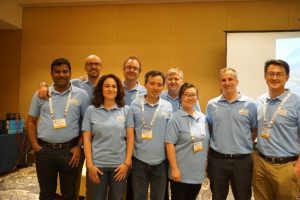 From left, Dhanunjaya Goud, Regional Manager Aquaculture-ISC; Waldo Nuez Ortin -lead scientist Aquaculture; Maria Merce Isern Subich – Product manager Aquaculture Health; Peter Coutteau- BU Director; Allen Wu, Regional Manager Aquaculture-Asia Pacific;  Martin Guerin, Regional Technical Manager Aquaculture ISC/APAC; Claire Xu, Regional Marketing & Communication Manager, Adisseo Asia Pacific Pte Ltd; David Bal, Head of Research Aquaculture Nutrition & Health, and Adrian Ng – Regional Director APAC.