Adisseo is launching the Rovabio® Enzyme Clinic, a unique tailor-made training session – a balanced mix of scientific lectures and practical exercises on how to get the most from feed enzymes. This training is provided to customers by Adisseo's nutritionists and technology experts.
Enzymes increase nutrient availability in feed and contribute to better animal performance, lower feed costs and pollution reduction.
Since enzymes are highly specific proteins which work in very small quantities, it is necessary to have precise knowledge on their modes of action, the nutritional implications of their effects and their handling properties for premix or feed applications.
Hélène Lionet-Llorca, Adisseo Enzymes Business Unit Director, highlighted the benefits of this program: "This training offer concentrates the knowledge Adisseo has gained during the development of our Rovabio enzyme range over the last 17 years. It is the result of the high R&D investment that we dedicate every year to enzyme nutrition and application, and the co-perations we have with external partners. Most importantly, it includes all the various information and techniques that we have generated from the practical application of enzymes via our close relationships with customers from all parts of the world."
It is designed to benefit nutritionists, quality managers, mill managers and purchasers.
Depending on a customer's predefined needs, Adisseo sets up a 2-3 days training program developed specifically for their team. The objective of the training can be different, according to each customer and the participants involved. This program is officially recognised as a training course by the French professional education authorities. It is made up of specific modules on different topics, from selection of the appropriate enzyme preparation, value extraction in formulation, application technologies to methods for checking enzyme activity in complete feeds. The training includes presentations, videos and practical workshops on both non-starch polysaccharides (NSP) enzymes and phytases, as well as special tests developed by Adisseo to help in enzyme assessment.
This training is part of the global Rovapack offering, a comprehensive set of services designed to answer all customers' needs for maximizing Rovabio® value in their specific usage conditions.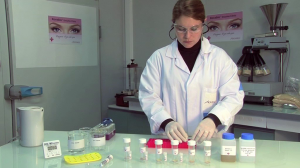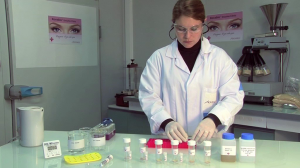 Extract from one video training illustrating a specific test developed by Adisseo
to show an enzyme's effect on different raw materials