On 4 July our partnership with association Elles Bougent was officially launched with the appointment of "godmothers" and representatives.
Elles Bougent was born in response to the following fact: After their baccalaureate, few women take up technical or scientific studies even though parity is perfect in the final year of high school science.
A few years ago, certain industrial groups expressed their desire to Mrs Marie Sophie Pawlak who was then Director of External Relations in an Engineering School, to hire more female scientific talent.
In 2006, Mrs Pawlak, an engineer by profession, then created the association Elles Bougent, whose mission is to bring together female high school students and female engineers to stimulate their desire to work in the field, thanks to the latters' personal accounts.
Forums, site and trade fair visits, challenges, rallies, conferences, lectures in middle and high schools… Whatever the shape their activities take, nowadays Elles Bougent focuses every one of its events on meetings between the godmothers and the young women.
The association also relies on representatives (men and women who are engineers, technicians, human resources professionals, etc.) from our partner institutions whose aim is also to bring young women to scientific and technical professions by sharing their expertise.
Representatives from Elles Bougent address issues relating to gender diversity and increased female participation in the industry and technology.
For that matter, they can count on close to 5300 godmothers and representatives all over France in addition to Adisseo's very first godmothers and representatives!
Adisseo's team will now be able to take part in events organised by Elles Bougent to share their knowledge with young women and thus participate in breaking down stereotypes, supporting young women and encouraging them to take up technical and scientific professions.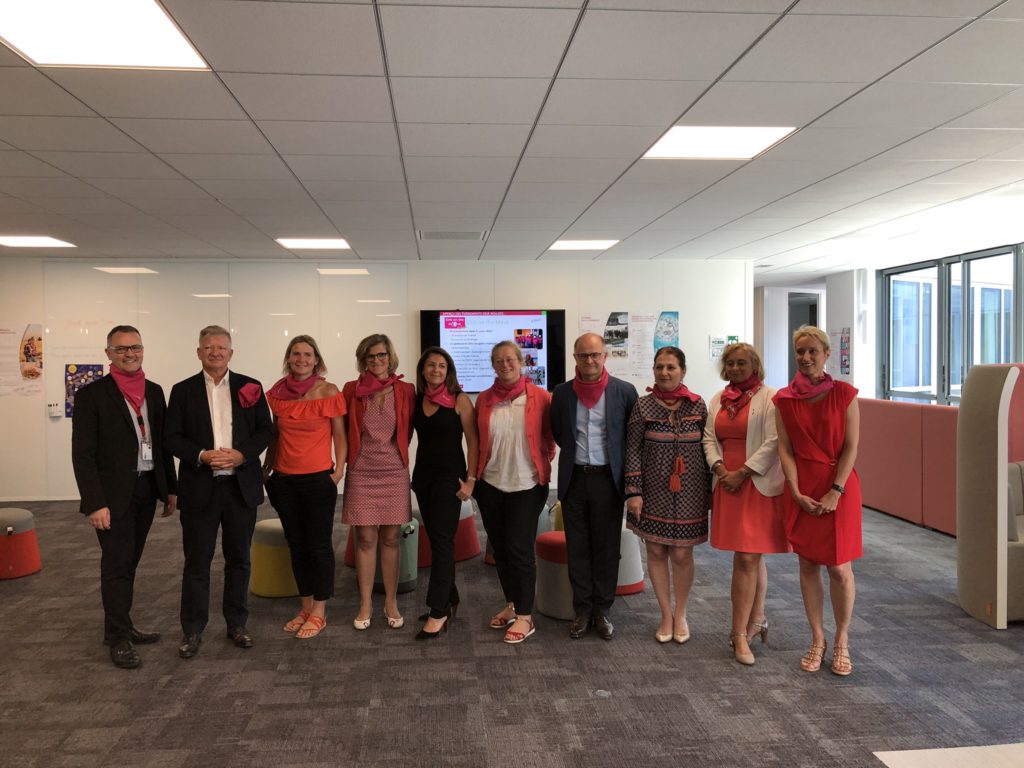 From left to the right  Fabien SIGUIER EVP HR, Jean Marc DUBLANC CEO, Pascale ALIPRANDI R&D manager, Virginie CAYATTE EVP FINANCE, Amel HOCINI  Project manager, Caroline GAULY Sales HRBP, François LECOEUR SBU Methionine HRBP, Maria WILTZ Customer Centricity Director, Marie Sophie PAWLAK CEO of Elles Bougent & Françoise PEZZULO Cultural transformation and Talent Management Director.
Not present  : Claire Relandeau, Regional Business Manager, Esther Novellon Process Leader , Virginie Bellière Baca Chemical process Manager  et Virginia Yanguas Exploitation manager , all godmothers et enfin Patrick Rey Operations manager et Jean Lecourt, Global Key Account Director, like representatives