Début novembre, Adisseo a participé à la première exposition internationale des importateurs de Chine (CIIE), qui s'est déroulée à Shanghai.
Cet événement a attiré plus de 3 000 entreprises venues de plus de 130 pays et régions.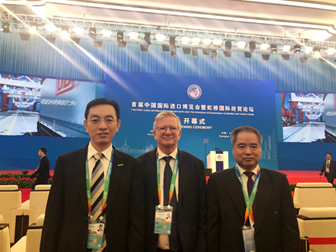 From left to right: Mr. HAO Zhigang, Chairman of Bluestar Group and Adisseo, Mr. Jean-Marc DUBLANC and Mr. GU Dengjie, Adisseo.
À propos de la CIIE, Jean-Marc Dublanc a déclaré que cet événement était un signe d'ouverture et de transparence de la Chine et que, la Chine étant l'un des principaux marchés de production et de consommation de produits issus de l'agriculture, Adisseo est confiant dans sa capacité à pouvoir accélérer sa croissance sur le marché chinois. Dans cette perspective, Adisseo a signé des partenariats avec le groupe Zhengbang et le groupe New Hope, deux partenaires stratégiques historiques chinois. Ces accords de coopération portent sur Rhodimet et MetaSmart. M. NING Gaoning, président du groupe ChemChina, a assisté à la cérémonie de signature.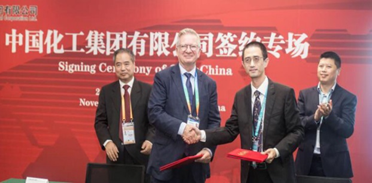 Adisseo CEO Jean-Marc Dublanc and Zhengbang's General Manager Huang Guoqiang
Adisseo a également conclu un accord de partenariat avec Fujian Sunner Development Inc.Fujian Sunner est une entreprise leader dans le traitement des aliments pour animaux, l'élevage de poulets, l'éclosion d'œufs de poule et les abattoirs.
Pendant le salon, le stand d'Adisseo a attiré un grand nombre de visiteurs chinois et étrangers, acteurs de l'élevage de volailles ou de vaches laitières. L'occasion pour Adisseo de présenter à tous les visiteurs, l'ensemble de sa gamme de produits à base de méthionine et ses produits innovants brevetés.