3. The possible water sources and treatments
The most common and safest source is mains water which is potable and requires little or no treatment.
In some areas, mains water may not be safe to drink and will require treatment.
Another source is well water. Its microbiological quality will depend on the depth at which it is drawn but contamination by surface water is always possible.
Depending on the origin and quality of the water, particularly in the case of well water, several successive types of treatment can be implemented. We will pass on the screening/straining, flocculation and sedimentation phases which are done in the water treatment plants.
Filtration:
the most common filtering media is sand and gravel, but granular activated carbon is the media of choice because it not only provides excellent mechanical filtration of particulate matter, but also removes organic compounds which can cause taste and odor problems.
Disinfection:
to destroy potential remaining bacteria and viruses. The most common process is chlorination. Several sources of chlorine are possible but the most convenient is the addition of bleach (sodium hypochlorite – NaClO). For this step, it is rarer to use ozonation or ultraviolet light.
Demineralization:
depending on the hardness of the water, i.e. its mineral concentration, it may be advisable to soften it to prevent scaling of the installations. A common method for water softening involves the use of ion-exchange resins, which replace ions like Ca2+ by twice the number of mono cations such as sodium or potassium ions.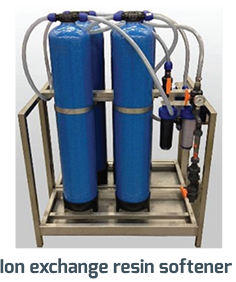 Chlorination standards
There are different standards in the world for drinking water. One of these standards is that of France, where water may not contain more than 0.2 mg/L of chlorine at most. The European Union has also adopted a chlorine concentration in drinking water of no more than 0.1 mg/L since December 22, 2013.
The World Health Organization (WHO) recommends keeping chlorine levels at no more than 0.5 mg/L to ensure the safety of drinking water.