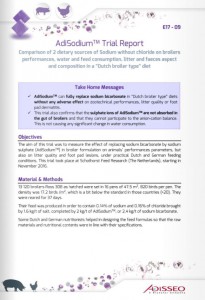 AdiSodiumTM can economically replace sodium bicarbonate in broilers' diets, without any negative effects on performance, foot pad dermatitis or litter quality.
This was demonstrated by a trial performed at Schothorst Feed Research (Netherlands) at the end of 2016. It aimed to compare the effect of two sources of sodium without chloride, sodium bicarbonate and AdiSodiumTM, on broilers' performance, as well as on litter quality and foot pad lesions.
The trial demonstrated that mortality, overall animal behaviour and zootechnical performance, as well as faeces and litter moisture, were not influenced by the sodium source provided to broilers.
Foot pad dermatitis was also assessed, and the scores for broilers fed with AdiSodiumTM or sodium bicarbonate were very low.
AdiSodiumTM is therefore an economical source of sodium, ensuring optimum commercial performance of broilers, without any detrimental effects.