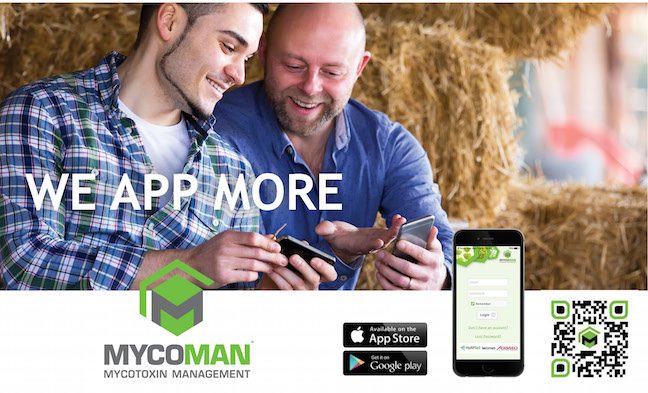 MycoMan®  is an app for the animal feed industry. It is a perfect tool to manage the negative effect of molds and mycotoxins in practice. Based on analysis of the main mycotoxin levels MycoMan® shows you directly how serious the impact on the animal is, which Adisseo product is most appropriate, what dosage is needed, and by email you receive a full report of your analysis. This enables you to make the right decision on-the-spot.
The negative impact of moulds and mycotoxins on animal production is an ever increasing concern.
Fluctuations in the quality of raw materials require continuous attention.
In collaboration with independent laboratories we regularly test feed and raw material samples from different regions worldwide to verify the level of mycotoxin contamination.
Our dedicated team of nutritionists, biochemists and veterinarians is available to help analyzing specific challenges. Their knowledge and experience will support you in making the best practical choices when it comes to mycotoxin management.
We offer a wide range of products with specific mode of action such as mycotoxin inactivation, mould inhibition, immune stimulation and organ protection.
Download MycoMan® for free from Apple (IOS) store and Google (Android) Play store
MYCOTOXIN MANAGEMENT FEED ADDITIVES
MOLD-NIL®, TOXY-NIL®, TOXY-NIL®PLUS, UNIKE®PLUS
Customers across the globe have been successfully working with our mycotoxin management programme for decades.
It all starts with mould inhibition to stabilize mycotoxin levels during storage. MOLD-NIL® (liquid and dry) has built up a global reputation in mould control.
The TOXY-NIL® and TOXY-NIL® PLUS  product lines focus on mycotoxin inactivation by both binding and inactivating mycotoxins.
More recently – after a long period of in-vivo and in vitro testing at Universities and with customers – we have introduced UNIKE® PLUS.
UNIKE® PLUS focuses on binding and inactivation of mycotoxins as well as reduction the detrimental effects of mycotoxins in animals by organ protection, immune system stimulation and support of antioxidant system.
TOXY-NIL®, TOXY-NIL®PLUS & UNIKE®PLUS are not available in the USA.  Please contact your local Adisseo representative about product availability your region.