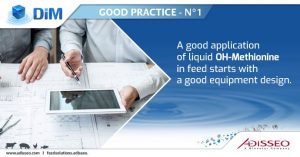 Designing of liquid OH-Methionine application equipment in a feed mill starts with Customer's needs assessment
Overall, even if all feed mills in the world share the main principles of the manufacturing diagram stages (raw material reception and storage, dosage, grinding, mixing, pelleting…etc.), they are all different.
Indeed, during the feasibility visit (first step of the project), Adisseo technologist takes into consideration many criteria: current and future volume of production, types of feed, number of mixing lines to be equipped, existing liquid equipment, space availability…
Climatic conditions, quality standards, preferences in term of dosage principle (flow meter or weighing scale) also varies lot from a region to another.
Moreover, the yearly estimated consumption of OH-methionine determines significantly the mode of delivery and storage (IBC, bulk) and at the end of the day the envelop of the investment.