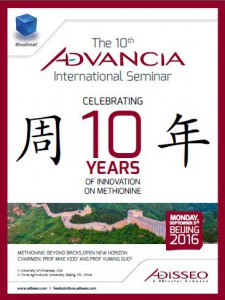 The best opportunity to share ideas and suggestions with recognized scientists and technicians involved in amino acid nutrition and anti-oxidant.
More than 110 participants attended the 10th Advancia International Methionine Seminar, which was held in Beijing, China, on September 5th and organized by Adisseo, prior to the WPSA World's Poultry Congress.
What a greater place than China, the home of the Great Wall to introduce the concept of new horizons for methionine beyond its use as building block:
"After ten years of intensive scientific research, it is time to review what has been done and what are the progresses and the remaining questions. Advancia 2016 also addressed the additional benefits on immune system as well as the contribution of sulfur amino acids on the antioxidant metabolism and its impact on meat quality beyond its well-known ability to create proteins." according to Dr Pierre-André Geraert, (Director Innovation Marketing, Adisseo).
You can access the presentations by filling in the aside form